Next Meeting for the LARC
The Satellite Session
May 6th is the next Zoom meeting for LARC members.
Sarah McKenzie-Picot speaking on Satellites, which she has built as part of her profession.
As well as the usual features.
If you were unable to attend any of the meetings you can see the recorded event and interviews Here.
~~~~~~~~~~~~~~~~~~~~~~~~~~~~~~~~~~~~~~~~~~~~~~~~~~~~
London Amateur Radio Club 2021 / 2022 Elections
The LARC election of the Board of Directors for 2021/2022 is upon us once again.
The tentative list of candidates (alphabetically) are:
Rick Brown - VE3IMG / VA3YV
Carol Leigh Cecile - VE3OCD
Mike Cook - VE3ZMC
Matt Geddes - VE3DIZ
Dave McCarter - VE3EI / VE3GSO
Bogdan Scarlatescu - VR3YOB
This year, once again, we will be using Election Runner, an on-line, secure voting tool for the actual election.
The timeline for the election process is as follows:
Nominations of candidates - Closed Thursday, April 1, 2021 after the April meeting.
Voting period via Election Runner: Sunday, April 25, 2021 at 12:00 a.m. through to Wednesday, May 5th, 2021 at 11:59 p.m.
Naming of successful candidates - As close to Thursday, May 6, 2021 as possible (communicated at the May meeting, through e-mail and the LARC website.
Please send questions to the email address: This email address is being protected from spambots. You need JavaScript enabled to view it.
Thank you for your attention and your cooperation.
Regards,
The LARC Elections committee (Frank Birch, Tom Pillon and John Visser Sr.)
~~~~~~~~~~~~~~~~~~~~~~~~~~~~~~~~~~~~~~~~~~~~~~~~~~~~
Update on Access to Club station and Builders group
At the March 18th board meeting, the issue of access to the club station and starting up the builders group was discussed. It was determined that the club station would continue to be closed at this time. The builders group would also not be held at the club station location. It was discussed that having a Zoom session for those who were interested in building projects would be a good short term option. If you are interested in attending a Zoom session related to kit building please contact the club admins at This email address is being protected from spambots. You need JavaScript enabled to view it..
~~~~~~~~~~~~~~~~~~~~~~~~~~~~~~~~~~~~~~~~~~~~~~~~~~~~
LARC Members
If you are interested in attending the Raspberry Pi "get together" Zoom meetings please e-mail to
This email address is being protected from spambots. You need JavaScript enabled to view it..
Watch this page for information and topics that have been discussed in the group, as well as resource links etc.
The next meeting is to be determined, but sometime in late April 2021 at 7:30 pm EDT.
No experience necessary!
~~~~~~~~~~~~~~~~~~~~~~~~~~~~~~~~~~~~~~~~~~~~~~~~~~~~
Arrl Field Day 2021

ARRL Field Day is the most popular on-the-air event held annually in the US and Canada. On the fourth weekend of June, more than 35,000 radio amateurs gather with their clubs, groups or simply with friends to operate from remote locations.
Information on Field Day can be found here.
For those who are new to Field Day, here is a video to familiarize yourself with the event.
Field Day on Social Media!
Click below to join the ARRL Field Day Facebook Group.
Share your plans, tips and tricks to a successful Field Day.
When posting content from Field Day, use hashtag #ARRLFD on all social media to receive 100 bonus points!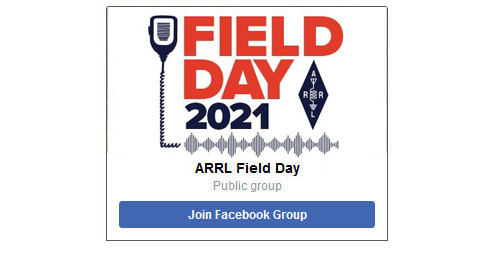 ~~~~~~~~~~~~~~~~~~~~~~~~~~~~~~~~~~~~~~~~~~~~~~~~~~~~
Congratulations to the New Hams
Once again this year we have had a number of successful candidates for their Amateur Radio License.
| | | |
| --- | --- | --- |
| Bogdan | Scarlatescu | VE3YOB |
| Evan Warren | Pratten | VA3ZZA |
| Kim | Swart | VA3ZME |
| Matthew | Baran | VA3BXM |
| Mike | Kasprzak | VA3POV |
| Paul | Mikolajczak | VA3PXM |
| Tyler | Fulmer | VA3GFU |
| Brian | Jurkowski | VE3KLT |
~~~~~~~~~~~~~~~~~~~~~~~~~~~~~~~~~~~~~~~~~~~~~~~~~~~~
2020-2021 Year for LARC is Coming
What's ahead for the year for LARC members.
The 2020-2021 year will be another exciting time for LARC members. Here is a brief list of things to keep members busy in the new year
CW course being held starting August 27th.
Centennial Corner, A look back at the clubs history with interviews from people of the past.
Basic Ham course, allowing any licensed member of LARC to audit the course for no charge ( sit in on the Zoom Session)
Special callsign was used to celebrate our 100th anniversary, VE3LON100.
Monday night Net to keep you up-to-date on club happenings.
October special meeting dedicated to antennas.
Raspberry Pi specail interest group Zoom meetings.
Special projects, such as the remote station and LIPO battery projects.
A place to meet on Saturdays, though limited at this time at the club station.
A committee dedicated to contesting.
~~~~~~~~~~~~~~~~~~~~~~~~~~~~~~~~~~~~~~~~~~~~~~~~~~~~
Want to become part of this great hobby!
From the Saturday after Labour day to early December, excluding the Thanksgiving weekend, we present the Basic Ham license course.
Contact This email address is being protected from spambots. You need JavaScript enabled to view it. for details.
How to become an Amateur Radio Operator (Ham), for more detail go here.
Do you need an examiner to provide a test for your license, a list can be found here.
Register now for the upcoming basic course here.
Resources on getting your ham license are available here.
~~~~~~~~~~~~~~~~~~~~~~~~~~~~~~~~~~~~~~~~~~~~~~~~~~~~
LARC Meeting Notification
The current COVID-19 emergency has resulted in the club station being closed.
This includes all normally scheduled activities: Thursday first of the month general meetings, Wednesday evening kit building, CW group sessions and Saturday morning
We will be using the Zoom platform for virtual meetings. If you are unfamiliar with this application please contact

This email address is being protected from spambots. You need JavaScript enabled to view it.

for assistance. Also please refer to these support items on Zooms site: Zoom FAQ and Zoom Tutorial Videos.
Updates will be held on the Monday night VE3LON Net at 8 PM.
the Elmer Net is Tuesdays at 8 PM on the VE3OME repeater.
There's a social net Tuesday mornings at 10 on the GYQ repeater that's replacing the face to face meeting at Cherryhill mall.
~~~~~~~~~~~~~~~~~~~~~~~~~~~~~~~~~~~~~~~~~~~~~~~~~~~~
Special Announcement and Request
LARC is celebrating its centennial this year and we want to have lots of photographs of past events and gatherings to illustrate our recent and more distant past. Please look back in your collections and let us have the files or borrow any prints you might have which show the people and places important in the club's life. If you have electronic files we would appreciate your attaching them to an email which explains who is in the photo and where it was taken.
If you send prints we will scan them and get the original back to you. Please pencil the names and event on the back along with your name and call.
Thank you for helping LARC celebrate 100 years!
~~~~~~~~~~~~~~~~~~~~~~~~~~~~~~~~~~~~~~~~~~~~~~~~~~~~~
Interesting Articles
Get your club Lanyard by coming to any meeting and asking an executive, more details here.
Past Interesting Articles are here.
Upcoming Events and Calendar
The calendar for meetings and events can be viewed here.
Club Meetings: Meetings are held on Zoom until further notice.
September through June, LARC meetings are held on the first Thursday of the month ( note this is a change from previous years, which were held on the Second Thursday of the month). The meetings start at 19:30. Location of meetings is LARC Club station, 427 Wing, 2155B Crumlin Road North London, Ontario (43.033766, -81.1589447) There are a variety of guest speakers, and you will have a chance to meet other hams to discuss your interests in amateur radio. All hams, SWL's and interested individuals are welcome.
Grid Square information can be viewed here.
Club Station Tours:
The LARC Club station is located at, 427 Wing, 2155B Crumlin Road North London, Ontario (43.033766, -81.1589447)
If an individual or group wish to have a tour of the club station, they can drop by any Saturday between 10am and 12:00 noon. Generally on Fridays members come to the club station around 11:00 and stay until 2:00. The 427 Wing has a lunch special every Friday at a nominal charge of $10.00.
It would be suggested that you email the This email address is being protected from spambots. You need JavaScript enabled to view it. in advance to make us aware of your interest in the tour.
Notes from our meetings
Presentations from our meetings will be posted here
Do you have a project you want funding for that will benefit the club!
See the guidelines for LARC Projects here and submit to the president, for executive review.
Canadian Ham-Radio Callsign Database: Search for the callsign information of Canadian Ham Radio operators (optimized for cell phones)
~~~~~~~~~~~~~~~~~~~~~~~~~~~~~~~~~~~~~~~~~~~~~~~~~~~~~~~~
The club's logging software and a contributor to our HAMFEST door prizes offerings is N3FJP.
Tuesday Morning Coffee, Hams are welcome to our Tuesday morning get together at Cherryhill Village Mall, 301 Oxford St W, London.
You will usually find us in the food court after 9:00 am.